E-Certificate
Online certificate issuance and verification process
What is E-certificate?
The E-certificate is a new concept to issue certificate to qualified candidates
What are the benefits of E-certificate generation and online verification system?
Click on below topics, to know more about the benefits of Ecertificate system:
How could any candidate get her/his E-certificate?
Fast delivery is one of specialty of the E-certificate. There are two ways to deliver the E-certificate to a qualified candidate – a) through email or b) through log-in area on institution's website or portal.
Is it secure?
E-certificate is secured document as it is embedded with latest available technologies and management tools. For each institution, it contains unique E-certificate number, Photo of concerned qualified candidate, online verification system.
How can employee or concern authority of other institution find out the genuineness of any e-Certificate?
Certificates or eCertificates could be important document for candidates/ participants for future use. Therefore each Certificate should have special security feature and have system/ process by which other person/ institution can check genuineness and authenticity of certificate. That is not possible with any bulk certificate generator or online certificate maker software. We provide ecertifcates with complete process/ Special Security feature/ Online certification process. Write to us on info[at]kitinfinet[dot]com or call us at 9899515047 for more details.
Verification of E-certificate is very simple process and safe. There is two ways to get verified the E-certificate:
the employer can get reply containing information about genuine/non-genuine through website by Online Reply System which may be mentored by dealing authority concerned institution.
The employer can get reply instantly by using her/his smart phone or QR bar code scanner.
The system is a good solution to minimise the limitation of paper based certificate's verification as this is fast and safe. No need to transfer/post the original document to avoid the possibility of theft.
From when KITINFINET is providing the service - Online Certificate E-certificate Issuance to it's clinets?
Ecertificate generation, issuance and online verification process is conceptulised by KITINFINET years back on June 2010. Since then, the company is market leader in this field and is providing the service to education sector's top most oranisations like University Grants Commission, National Testing Agency, SWAYAM (India's national MOOC platform) to MSME and Startups.
Glimpse of launch …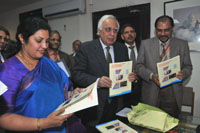 The Union Minister for Human Resource Development and Communications and Information Technology, Shri Kapil Sibal launching the 1st E-Certificate of NET, in New Delhi on March 03, 2011. NEWS Source: pib.nic.in. Picture Source: pibphoto.nic.in.
For which type of organisation can take benefit by implementing the process - Bulk Online Certificate Generation / Online Verification?
Organisation / institution providing facility to learn course and/or to conduct examination can take advantage by implementing the process. The process can be useful for org., providing following service:
Sample E-Certificate (Print)